India's northeastern state of Arunachal Pradesh will build a memorial in the honor of Major Ralengnao Khathing, a former British Army officer, in Tawang next month. But what prompted the Pema Khandu government to make this announcement for this district that shares borders with China and Bhutan now?
RAW IS WAR: Ex-Nepal PM Accuses India's Intel Agency RAW Of Splitting Nepal Communist Party
China has often claimed the strategically important town — barely 30 km from the Line of Actual Control (LAC) — as part of its territory. In fact, Beijing lays claim to the whole of Arunachal, calling it southern Tibet.
Dai Bingguo, a former Chinese border negotiator with India, had made a sensational statement in 2017 that the border dispute between the two neighbors can be settled if New Delhi accepts Beijing's claim over Tawang, the Chinese media reported. And of course, India wasted no time in trashing such claims.
With the current India-China border standoff in Eastern Ladakh unlikely to be over anytime soon, the Pema Khandu government perhaps deemed it fit to reaffirm India's sovereignty over Tawang, the smallest district in Arunachal Pradesh. With a population of nearly 50,000, it is also the eighth least populous district in India.
Located at an elevation around 10,000 feet, Tawang in north-western Arunachal Pradesh is a popular hill station and a prominent Buddhist pilgrimage site. It houses India's largest monastery and the second largest in the world after Potala Palace in Tibet's capital Lhasa. 
Tawang's Tibet Connection
Tawang has historical links with Tibet. The three-century-old Gaden Namgyal Lhatse (the Tawang Monastery) is located close to China and Bhutan borders. It is believed that the 5th Dalai Lama, Ngawang Lobsang Gyatso, wanted a monastery to be founded in Tawang, and accordingly, it was built.
The Monpa tribe is the majority community in Tawang. While 60,000 Monpas live in Arunachal Pradesh, they have a small population in the Tibet Autonomous Region in China as well.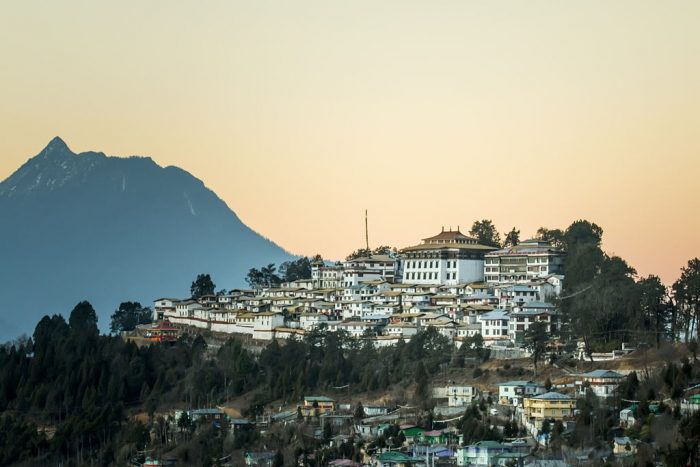 Once part of Tibet, Tawang was brought under British India through the 1914 Shimla Accord. The agreement laid down the McMahon Line — drawn by colonial administrator Sir Henry McMahon – as the boundary between Tibet and India.
While China never recognized this boundary, Tibet is said to have lost several hundred square miles of its territory, including Tawang, to British India, according to Tsering Shakya, the author of The Dragoon in the Land of Snows.  
However, Tawang, then part of North East Frontier Tract (NEFT), was left to fend for itself as India left it unadministered. It was only after India's independence that NEFT became part of Assam. In 1950, the Assam governor sent Major Khathing to Tawang as an assistant political officer to administer the region.
In 1951, the NEFT became the North-East Frontier Province (NEFA) comprising some areas of present-day Assam, Arunachal Pradesh, and Nagaland. This arrangement continued until 1972 when Arunachal was declared a Union Territory by India's federal government and on February 20, 1987, it became a full-fledged state with its capital in Itanagar. 
Memorial In Honor Of Major Khathing
Largely unknown to the outside world, Major Khathing was instrumental in bringing Tawang under India's rule seven decades ago.
Major Khathing, who hailed from Ukhrul in Manipur, served in World War II. He received the military cross and was awarded the medal of Member of the Order of the British Empire (MBE). In 1950, two platoons of the Assam Rifles led by Major Khathing reached Tawang and took control of the Bum La area along the McMahon Line. He was the first Indian official to establish Indian administration in this remote border area.
"Not many of us are aware of Major Khathing and his contribution to Arunachal Pradesh.
Once the memorial is constructed, visitors will come to know about him and his contributions," Arunachal Pradesh chief minister Pema Khandu was quoted by media as saying. 
Major Khathing was inducted as an officer of the Indian Frontier Administrative Service (IFAS), a separate cadre created by the Indian government in the early 1950s to handle administrative duties in the NEFA. He became chief secretary of Nagaland in 1967 and was later posted in Burma (Myanmar) as India's ambassador.    
The Arunachal Pradesh government's move assumes significance in view of China's growing military aggression along the LAC, especially in the Ladakh sector. There were also reports of massive PLA build-up in the Tibet region opposite Arunachal Pradesh.    
According to Dr. Junjun Sharma Pathak, a researcher, and China watcher, the decision to construct a memorial in the honor of Major Relangnao Khathing, popularly known as Bob Khathing, in Tawang is significant — both historically and symbolically. 
"In the historical context, it would throw light on the process of how the frontiers along the India-Tibet region were incorporated within the India state. It remains significant in establishing India's historical presence over the region, especially in the context of the current territorial dispute between India and China over Arunachal Pradesh. 
"Locating Tawang in the historical context remains relevant since it holds immense strategic value in ensuring the territorial sovereignty and security of the Indian state; and also because it has been a major center for the Tibetan Buddhism," maintains Sharma Pathak, who has done her Ph.D. on 'Contested Borders and Sovereignty: India-China borders,' at the Jawaharlal Nehru University, New Delhi.
"Symbolically, establishing the memorial would place Tawang within the Indian cultural, political, geographical, and national memory. Most importantly, it highlights the role of the Indian army and officers like Major Relangnao Khathing who played a major role in establishing an administrative unit in one of the most inhospitable regions in the country in 1951.
"Tawang is also the site of the Tawang War Memorial which was established in the honor of the martyred Indian soldiers during the 1962 India-China war," she adds.
---
Follow EurAsian Times on Google News
The post Arunachal Pradesh's Bid To Remind China How India Took Administrative Control Of Tawang 70 Years Ago appeared first on Latest Asian, Middle-East, EurAsian, Indian News.